[accordion]
[toggle title="Hermon Hostel – Senior Boys" state="opened"]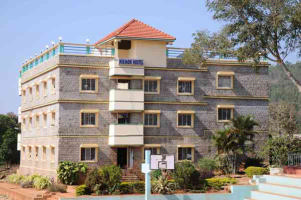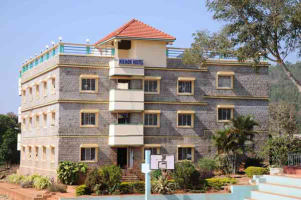 Hermon Hostel for boys is comfortably and aesthetically designed by a well experienced Architect. The built-up area of the three-storeyed hostel building is 16000 sq.ft., with spacious, ventilated rooms and an adequate number of toilets and bath rooms. Each room accomodates four boys and each floor is supervised by a resident Warden.
[/toggle]
[toggle title="Bethany Hostel For Girls"]
| | |
| --- | --- |
| Bethany Hostel for Girls was a later addition and is one amongst the on going creation of facilities for the boarders. | The Bethany Hostel is a two-storyed building of 10000 sq.ft., with a basement. |
[/toggle]
[toggle title="Girls at the Bethany Hostel"]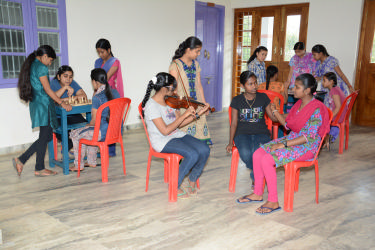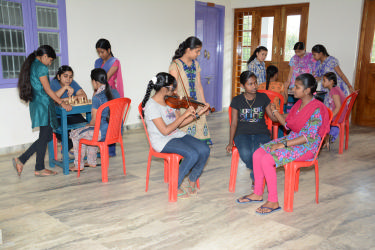 Lady wardens, matrons and helpers take care of the girls and the primary children from class III.
[/toggle]
[toggle title="Girls at study in the Bethany Hostel"]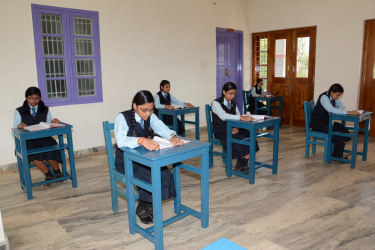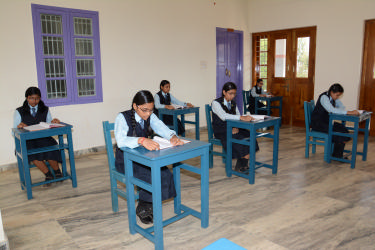 Bethany Hostel is a compact block with furnished study hall.
[/toggle]
[toggle title="Canaan Hall – Dining-cum-Junior Boys Dormitory"]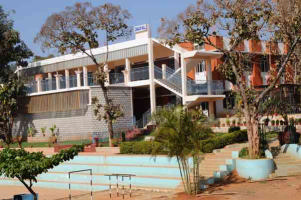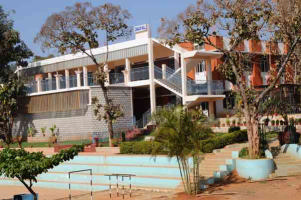 The Canaan Hall with a built-up area of 20000 sq.ft., has Dining facility on the Ground Floor and Dormitories for boys of Stds. VI to VIII on the upper floor.
[/toggle]
[toggle title="A Night View of the Canaan Hall"]
The Indoor celebrations and various other programme at Ebenezer Residential are hosted in the Canaan Hall.
 [/toggle]
 [/accordion]
Each of the thoughtfully designed & homely rooms consists of the following facilities and comforts:
High ceiling, High level open type ventilation, window openings on both sides of the rooms for free air circulation.
Cabins to stock empty trunks/suitcases.
Books & Stationery shelves.
Cupboards for toiletry articles.
Shoe-rack.
Closed circuit TV System with TV Corner.
Rooms are attached with the following accessed provision.
Spacious luggage room for storing/stocking extra luggages.
Separate independent facility for each sub-warden, in each floor.
TV System is connected to Dish Antenna. The relay is centrally controlled.
Common bathrooms, toilets, urinals and wash basins.
The following accountable services are available at the Hostel:
Laundry:
The residential laundry personnel take care of the daily collection, washing, drying, ironing & delivery system of students' soiled clothes/dresses.
Tailoring:
Mending, Button stitching, Altering of clothes/dresses are taken care on Monthly-basis through the Tailoring Department.
Barber and Cobbler:
A well-furnished saloon is functioning for the convenience of students & residential staff's hair dressing needs.
Repairing of Foot Wear is also taken care.
Colour Cable Television:
Channelized service of the Entertainment TV Network is made available in the Hostel and the TV Schedule is monitored and centrally controlled by the resident Wardens.