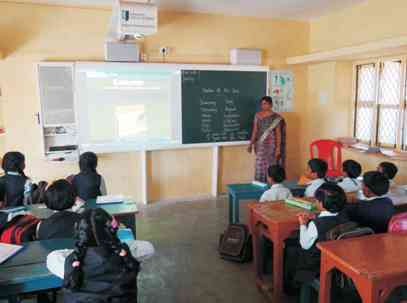 The Smart Class program is introduced in our school by Educomp which is powered by the world's largest repository of digital content based on Indian Schools curriculum.
It was opened on 21st January 2012 by Mr. Jeyakrishnan, Director of Caravel Logistics Pvt. Ltd.
Existing class rooms are converted into technology enabled smart class rooms equipped with smart class Interactive Digiboard systems with a PC, connected to a dedicated Smart Class knowledge centre inside the school campus.
Teachers use the digital resources such as animations, video clips and simulated models as a part of their 45 minutes class room period to teach the specific topics in smart class rooms, enabling a most sensory learning experience for the students.
A dedicated Program Administrator provides teachers with all technical help required to work with the program. All the teachers are given specific training required for the Smart Class which improves the teacher's effectiveness and productivity.
Smart Class makes learning an enjoyable experience for students. The Smart Class Program has resulted in fast improvement in the academic performance of the students.